Tenant's contents insurance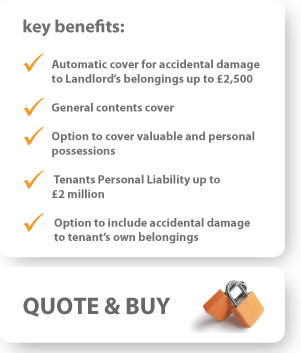 Protect your possessions and rental income deposit with Tenant's Contents Insurance
As a Tenant you are responsible for insuring your own possessions and damage caused to your Landlord's property. What happens if your belongings are damaged or your home is broken into or flooded or there has been accidental damage to your landlord's property?
You can protect your contents, valuables and cover yourself against accidental damage to your landlord's property with our Tenants Insurance which covers you for repairs and replacement - it's one essential you really ought to have. We have teamed up with LetRisks to offer 6 and 12 month policies that are amongst the best value available in the UK.
Get your no obligation quote in seconds by filling in a few details, we'll show you the cover available to you and all price options... and you can buy online.